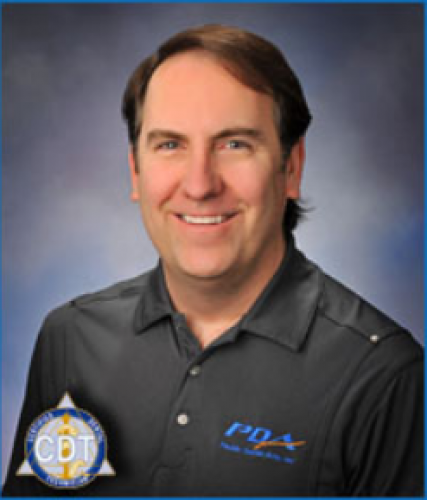 Our Founder, Greg Wallace, C.D.T. is a veteran Certified Dental Technician and Technologist with more than 22 years of practice in his field. He received his initial training at his father's dental office, working as an in-house dental lab technician. He then served as a dental lab technician while serving the United States Air Force in California.
He moved to Olympia in 1990 where he and his wife, Angie, started Pacific Dental Arts. He continues to educate himself in all areas of dental technology, always keeping abreast of the newest trends and techniques in this fast-moving area of dentistry.
We are a quality–driven, full-service dental laboratory dedicated to providing high-quality products and services to our clients. We have a team of very talented and experienced technicians who help make our restorations the very best quality and highest craftsmanship available.
Greg oversees every case that comes into our laboratory and invites dentists to consult personally.
Full-service & Quality - since 1989!

Since 1989, Greg Wallace and Pacific Dental Arts in Olympia, Washington have been providing superior service and products to our Doctors. PDA is a full-service dental laboratory committed to providing you with state-of-the-art technology and the highest quality of materials available to produce the best restorations for you and your patients. 

We take great pride in providing our clients with consistent quality products and outstanding customer service.
We understand that high-quality results begin in the dental office and continue on through the laboratory process. That's why Pacific Dental Arts works closely with you and your staff to ensure that the products we provide are tailored to meet the needs of your patients.
Our laboratory is committed to providing esthetically superior crowns that fit the first time, helping you keep your patients happy while avoiding costly adjustments and delays. We provide full and partial denture services too, using the finest materials, including Vitallium and Lucitone FRS.
We keep up with the latest advances in our field and have recently added Wieland T1 milling machine, along with the Sirona inLabmilling system, and are an authorized 3M ESPE Lava Design Center as well as an authorized Procera Nobel Biocare Scan Design Center for custom abutments.
Got Digital Impressions? We accept what we believe to be the top three companies' files, Sirona, 3M's C.O.S, and Cadent itero.
We have successfully received, scanned and fabricated thousands of restorations using this technology.
We at Pacific Dental Arts are continually expanding our selection of dental restorations to meet the ever-changing needs of dental professionals.
Proven Products and Technology
Pacific Dental Arts is a leader in providing and supporting the best products and technology available. 
You can learn more by navigating to an area of interest by selecting an image below.
We take pride in providing the absolutely best customer service and restorative systems possible using today's state-of-the-art technology.
The complete list of our products and services can be viewed here.
 Visit our photo album, gallery of various products and services.